With Valentine's Day just days away, how do Americans prefer to spend this romantic pandemic holiday? Whoever said "distance makes the heart grow fonder" wasn't aware of social distancing because Americans just aren't feelin' the love this year.
To surface the ideal pandemic Valentine's Day, we used a conjoint (considered jointly) experiment that requires trade-offs between date night essentials: company, food, drinks, dessert, and activity. Turns out what you're eating and drinking is way more important than what you're doing and who you're doing it with.
The ideal Valentine's Day involves eating a burger & fries, with cheesecake for dessert, while watching a Zoom comedy show, drinking wine or beer. With… no one. That's right: the ideal Valentine's Day this year is all about self-love 💗 .
At this point in the pandemic, Americans have had enough of their partners. In fact, people are so fed up with their significant others that "getting busy" ranked as the least preferred Valentine's Day activity.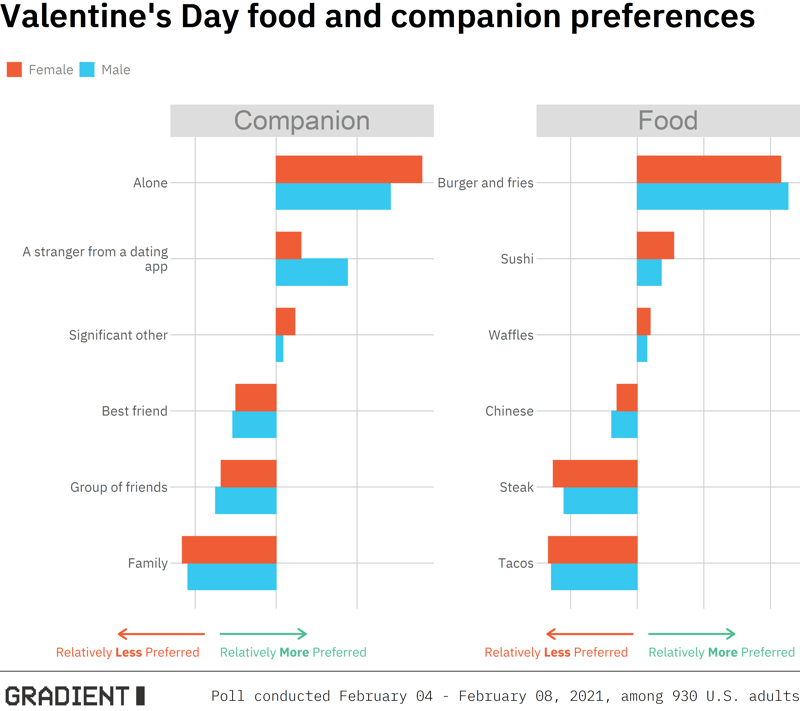 The traditional steak dinner is less appealing compared to the convenience (and comfort) of a classic burger and fries. With nobody to impress, instead of donning heels or a fancy suit, sweatpants are the only ones getting busy this Valentine's Day.
Despite 53% of Americans being married or in a domestic/civil partnership, riding solo is the most preferred way to spend this Valentine's evening — especially among the ladies. Best of luck to the men, on the other hand, who are more likely to be swiping right to set up some last minute V-day plans.
Can someone please get Cupid the vaccine so he can go back to work? 💘