Although Amazon was victorious in March Madness: Brand Edition, it wasn't the only winner to walk away with (or use Prime to order) a trophy.
Using data from the same MaxDiff experiment, we conducted a latent class analysis to segment Americans based on the brands they like the most and the least among the 75 largest brands.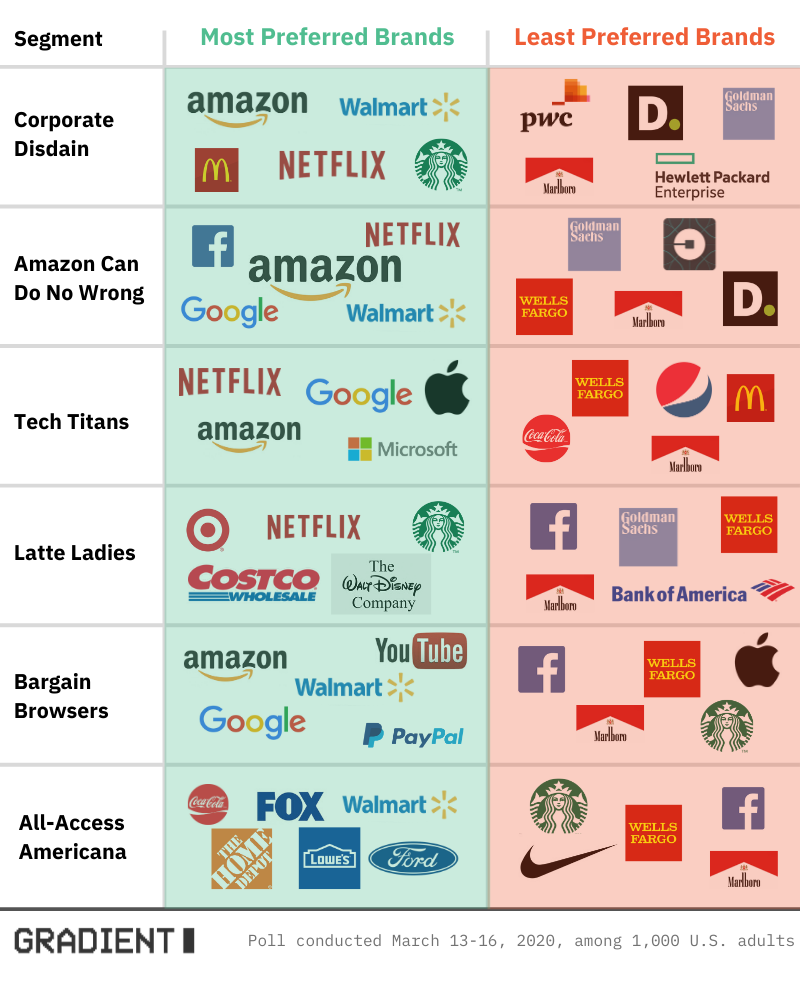 Corporate Disdain (29%): The largest segment is defined less by the brands they admire and more by the ones they don't. You're not going to see anyone from this segment approach the recruiting table for white collar firms like Deloitte, Goldman Sachs, PWC, Accenture and Optum at the next job fair.
Amazon Can Do No Wrong (15%): These consumers wave their foam finger (obviously ordered via Prime 2 hours before tip-off) every time Amazon makes their life more convenient. Expect to see thrice daily Facebook posts about every Amazon purchase. Their least favorite brand is Uber, perhaps because they never need to go anywhere thanks to...Amazon.
Tech Titans (15%): You'll never see a battery dip below 90% on any device for members of this segment. Apple, Microsoft, YouTube, Google, Netflix and Amazon reign supreme in this segment's (mostly virtual) world. Don't be surprised if they name their actual IRL children Alexa and Siri. And their pet hamster Clippy. Although it can't be a coincidence that this segment is the most likely to be divorced...
Latte Ladies (14%): What do Starbucks, Target, and Costco have in common? Suburban panache. This discerning segment would never step into WalMart and is too busy filling her cart (yes, it's true — this segment is 63% female) with pantry essentials like cases of La Croix and Skinny Pop Popcorn to binge watch Netflix in between binge shopping at Costco and Target.
Bargain Browsers (14%): Big box stores like Target and WalMart are the MVPs, but their starting 5 share the court with tech brands too. Amazon (can't hide from it), Google, YouTube, and sixth man Paypal are all welcomed parts of the purchasing pipeline. There is one exception to this tech admiration: Facebook is the least favorite brand overall. Even Marlboro is a puff above the social media giant.
All-Access Americana (12%): This segment cherishes many of America's most accessible legacy brands. A typical Saturday involves taking the family Ford through the McDonald's drive thru and fighting over which is better — Coke or Pepsi — on the way to Home Depot or Lowe's. The afternoon requires a pitstop at WalMart to get the latest Disney movie and paying with a Visa card.
Which segment do you belong to?