Last year, a record number of women took over as CEO to help companies navigate the pandemic. As of the first quarter of this year, 41 women will lead Fortune 500 companies (8%), which is a small improvement from the 33 (wo)manning the helm two years ago. The increase of women in leadership might seem slower than plate tectonics, but it's a massive change from just two women CEOs 20 years ago.
Progress is progress. But seriously... 8%?! 🙄 The only time 8% is impressive is when we're talking about Rege Jean Page's body fat percentage (ahem, happy IWD, ladies).
We were wondering what the world would be like with more women in corporate leadership, so we asked Americans their opinions about gender differences among corporate leaders. Overall, most Americans believe there are no gender differences when it comes to corporate management. However, among those who do perceive gender differences, the divide is telling.
Three times as many Americans believe women are better at listening to diverse perspectives (26%, compared to 8%). Compared to men, more than twice as many Americans also think women are better at considering their employees' personal lives (27% v. 11%), creating an inclusive workplace (24% v. 10%), considering the societal impact of business decisions (21% v. 11%), and motivating employees (20% v. 9%).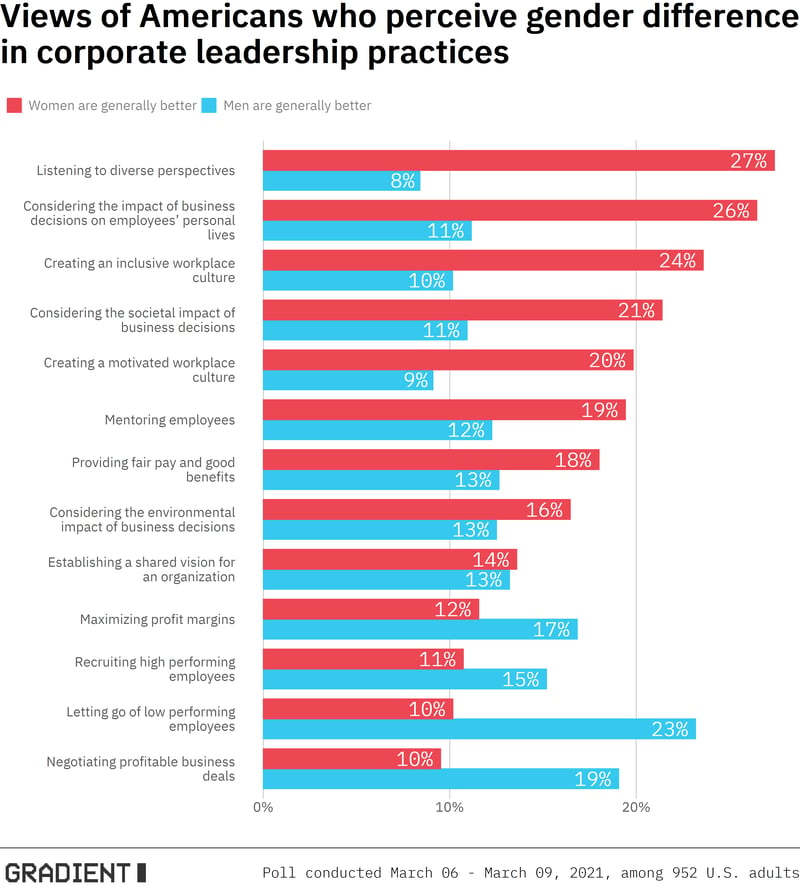 Men are perceived to be better than women at letting staff go (23% v. 10%). Heartwarming, is it not?
But don't be dismayed, gender is not entirely divisive. Respondents also had the option to select if they did not think there is a difference between genders. The smallest differences are in the equal ability of women and men to recruit high-performing employees (74% see no difference by gender), establish a shared vision for an organization (73%), and maximizing profit margins (72%).
If the majority believe both genders are equally capable business leaders, and pluralities prefer the business decisions of women to those of men… then, can someone please tell Corporate America that 8% is only good enough for the alcohol percentage of IPAs?