After the Olympics became one of the many things that COVID completely ruined in 2020, we are about to be treated to an Olympics during an odd-numbered year for the first time ever — that will still be slightly ruined by COVID. Americans are pretty enthusiastic, with 58% of those we surveyed indicating that they will watch at least some of this summer's Games in Tokyo.
What's driving Americans to want to watch? The high-flying gymnasts, led by Simone Biles? Whether the men's basketball team can get its trendlines headed in the right direction after its upset loss to Nigeria? Naturally, we asked.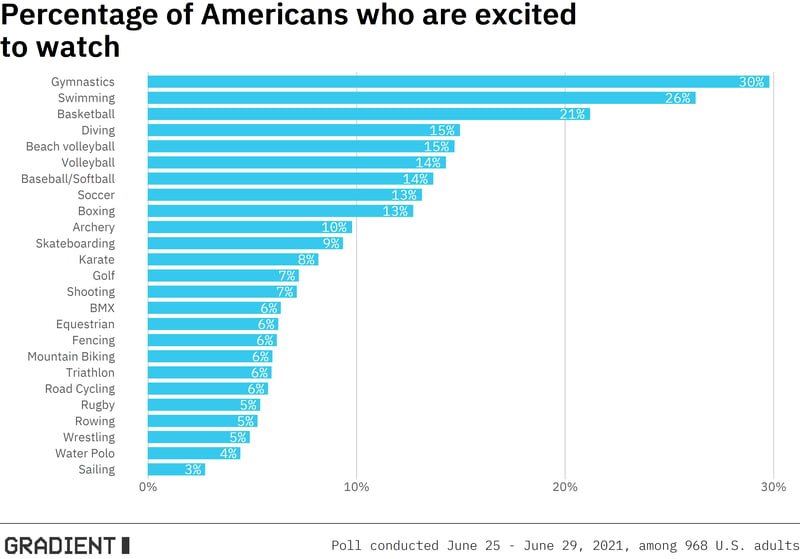 Gymnastics (30%), swimming (26%), and basketball (21%) stand out as the sports Americans are most excited about. Archery just missed the mark with 10% of those surveyed saying they are interested, while sailing is floating up the rear with 3%.
Given that the 2020 Summer Games were delayed by a year, we have a quick turnaround before the 2022 Winter Games in Beijing. Enthusiasm for next year's Olympics is something of a different story. Political leaders, including prominent Democratic and Republican politicians, have called for some form of boycott of the 2022 Games. These calls have come after several countries (including the U.S.) and human rights groups accused the Chinese government of crimes against humanity, including genocide, against the Uyghur and other mostly-Muslim populations living in China.
The extent to which Americans know about these human rights violations, and are paying attention to them enough to make the prescription for a boycott in 2022 is less clear. We ran an experiment in which we randomly assigned respondents to read a one-sentence description of the accusations against the Chinese government, and then asked whether the U.S. should boycott the Beijing Olympics next year.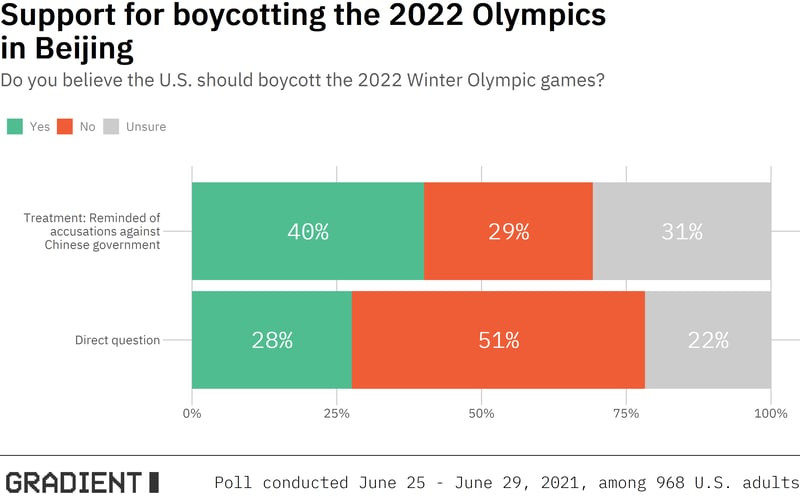 Those who were informed about the Chinese government's alleged actions were much more likely (40%) than those who weren't (28%) to say the U.S. should boycott next year's Olympics. Interestingly, 37% of the pro-boycott crowd still intend to tune in to the winter sporting spectacle regardless.
As with the most recent winter Games, a lack of snowfall might be the least of the issues 2022 Olympics organizers are up against.