As the gravity of the COVID-19 pandemic became clear (to most of us, at least), Gradient partnered with Survey160 to field a rapid survey using text messages from March 13th – 16th to understand how Americans perceive the COVID-19 outbreak and what they are doing in response.
Check out coverage in the LA Times, New York Times, and Politico and the full press release.
The survey also included a large sample of Washington state residents who are a few weeks ahead of the rest of us in grappling with the outbreak.
In case you thought a global menace that affects literally everyone in the world could bring America together...well, it can't. At least not yet.
But let's look to Washington state for an update on the two-week partisan forecast. Should we expect further polarization as the pandemic spreads?
While more than 99% of Americans in both political parties were aware of the COVID-19 outbreak by mid-March, 26% of Democrats and 73% of Republicans thought the seriousness of COVID-19 was exaggerated in the media.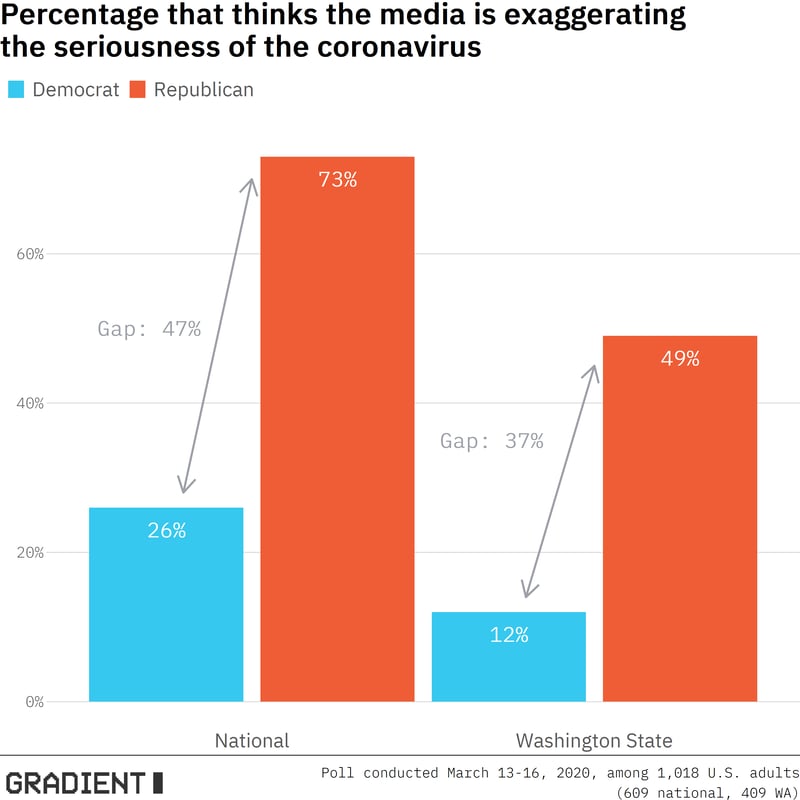 The good news? Compared to a 47 percentage point partisan difference nationwide, it was 37 percentage points in Washington. The partisan divide decreases as Americans encounter COVID-19 in their own communities. Washington residents also see a lot less media hype: only 23% statewide think it's exaggerated.
Here's to hoping that once we're allowed to play in the sandbox again, we stay six feet apart and constantly wash our hands can actually agree on something.