Now that the news cycle has oxygen to cover other interesting things happening in the world, said oxygen has been sucked up by a topic that most Americans would, on a normal day, find completely uninteresting: GameStop 🚀🚀 .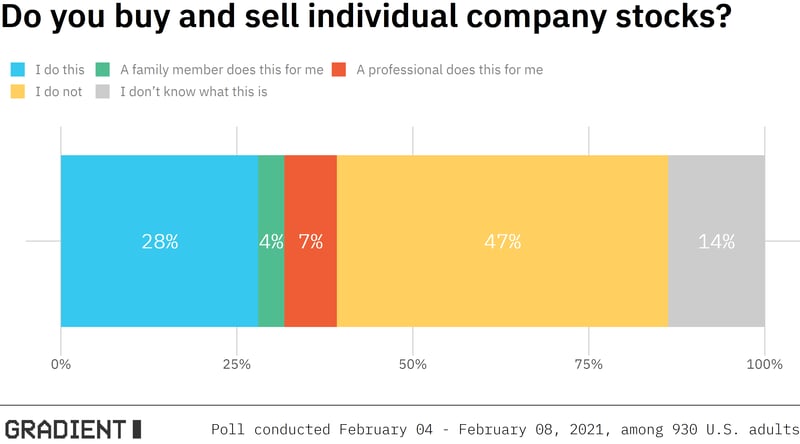 For perspective, 61% of Americans do not engage in any type of stonk stock trading — either individually or through a brokerage. That could be because 56% of the general public consider the stock market to be "rigged." That, and 19% don't even have an opinion, reinforcing the IDK WTF is going on storyline around the GameStop trading fervor.
Americans are as riled up about this story as a cross-armed Bernie with mittens (is he covering up his diamond hands:💎💎?). Nearly half (49%) have no opinion about whether or not Robinhood-like investment tools should be more regulated. Have you ever met an American with no opinion? Especially when it comes to money?
Among those who do have an opinion are those pesky little traders who report a 20% increase in stock trading volume compared to pre-pandemic times. This group broadly (60%) supports more regulation of the zero-commission, amateur trading apps that spawned this latest news cycle.
But with regulation, what's going to consume the next news cycle? Meme warfare? Naw — that's silly.