We're very excited (...eager...giddy, even) to announce that we are retiring one of our monthly tracked data points: the expected timing of a COVID-19 vaccine. Thanks to a couple of vaccine efficacy announcements and successive FDA approvals, we deprecated our oft-used-newly-defunct survey tracker of the expected timing of a vaccine. As quantitative researchers, we reluctantly laid our favorite plot to rest, but as human beings, we consider this a good riddance.
Don't despair, data junkies – we replaced it with two new monthly tracking variables: When do Americans anticipate receiving the vaccine? And when do they expect the United States will reach herd immunity?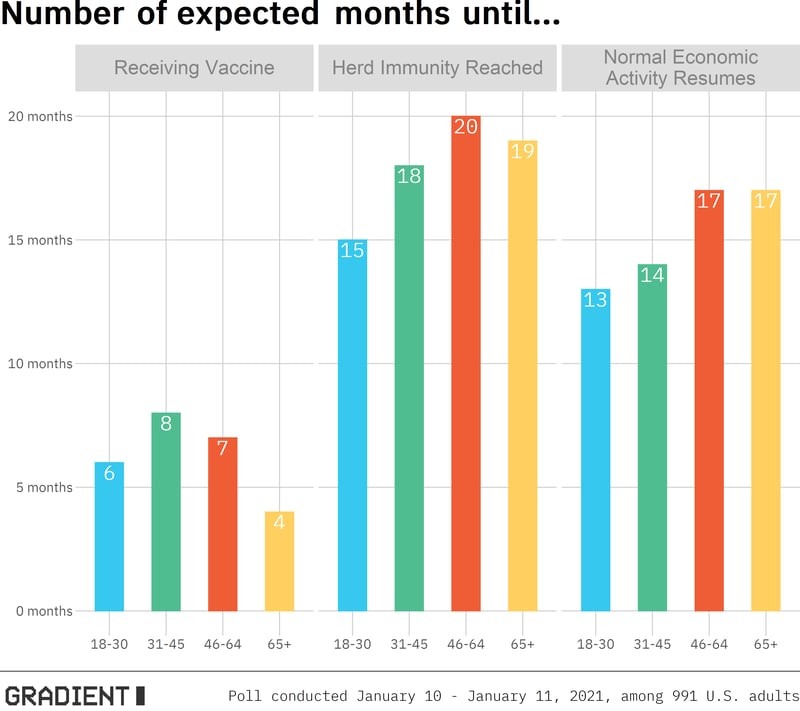 As the vaccine is deployed in fits and starts, most Americans are unsure when to expect their lollipop and complementary needle prick. Fortunately, grandma and grandpa have a pretty good idea. Americans 65 and older expect, on average, to be vaccinated in 4 months. That's 2 months sooner than any other age group expects their own injections – just enough time for granny to knit the whole family a woolen wardrobe for next winter.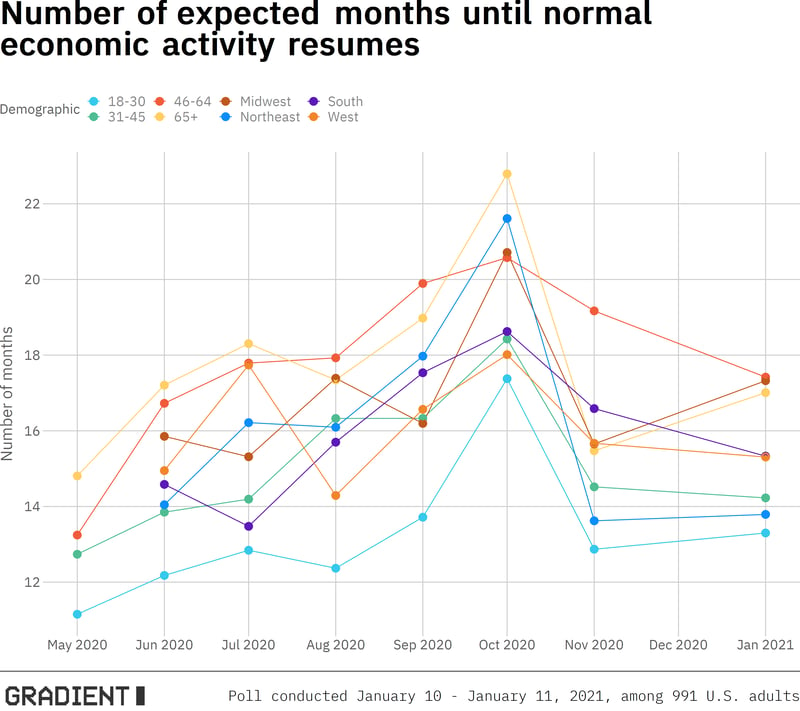 The youngins express the rosiest outlook – 18 to 30 year olds anticipate herd immunity in 15 months and business-as-usual economic activity in 13 months.
Men expect herd immunity to blanket the land from sea to shining sea a whole 5 months before women do. Men are more bullish on a return to normal economic activity, too, expecting date night and bar brawls 4 months earlier than women.
Something to keep a careful watch on is the 18% of Americans who report they do not plan to get vaccinated, imperiling the lofty but achievable goal of stamping out the damned virus once and for all. In the effervescent words of Lil Jon, "Shots, shots, shots, shots, shots. Everybody!"