America is a nation of (currently homebound) shoppers. With the NCAA on hiatus, it looks like online shopping is our new March Madness. Let's see how the top brands match up against each other.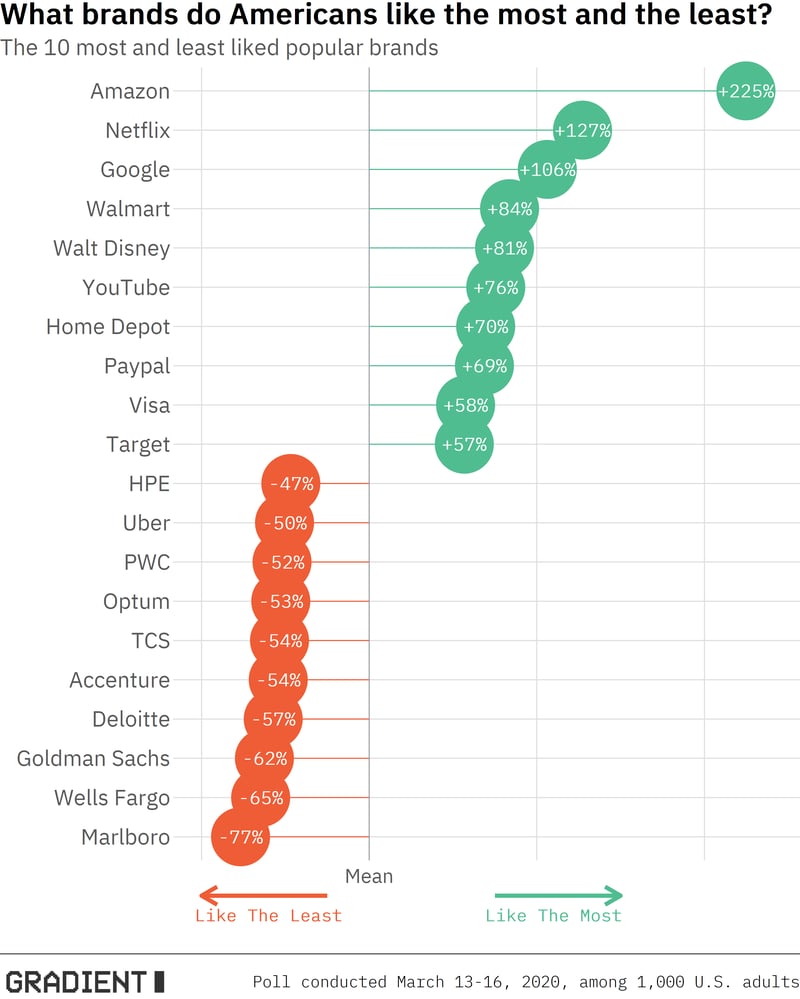 ---
The tournament uses a MaxDiff experiment (we love these btw) where survey respondents select the brands they like the most and the least among the 75 largest brands.
Amazon is the number one seed and expected favorite to win the Big Dance, likely sharing the Final Four stage with two other tech firms — Netflix and Google — and a retail powerhouse, Walmart. YouTube and Paypal are also expected to rep the Big Tech conference all the way to the Elite Eight.
The Big 4 Accounting conference does not make it far in many Americans' brackets with Deloitte and PwC (and don't forget about Accenture) rounding out the least admired common brands.
Yes, Millennials have killed off scores of consumer categories (although bar soap may make a comeback this year) — but streaming media is not one of them. In fact, Americans aged 18-30 admire Netflix and YouTube even more than Amazon.
There won't be a Cinderella story for big tobacco this March; Marlboro is the least admired brand among every segment of Americans.
Curious how consumers view your business or industry amid the COVID-19 outbreak? Reach out to us here or just reply to this email to start a conversation.