On Monday, June 21st, the Supreme Court of the United States unanimously ruled that the body governing college sports, the National Collegiate Athletic Association (NCAA), cannot prohibit universities from providing athletes with certain forms of education-related benefits. The decision paves the way for college athletes to profit from their name, image, and likeness.
Following SCOTUS's decree, we asked a representative sample of Americans about their reactions to the decision and what they think of college athletes earning money. Among the 43% of Americans who are aware of the Court's decision, there is strong support for the SCOTUS ruling – 78% agree it was the right choice. And regardless of familiarity with the decision, there is broad consensus that college athletes should be able to earn money. Roughly two out of three Americans support paying college athletes (68%) compared to just 20% who oppose it.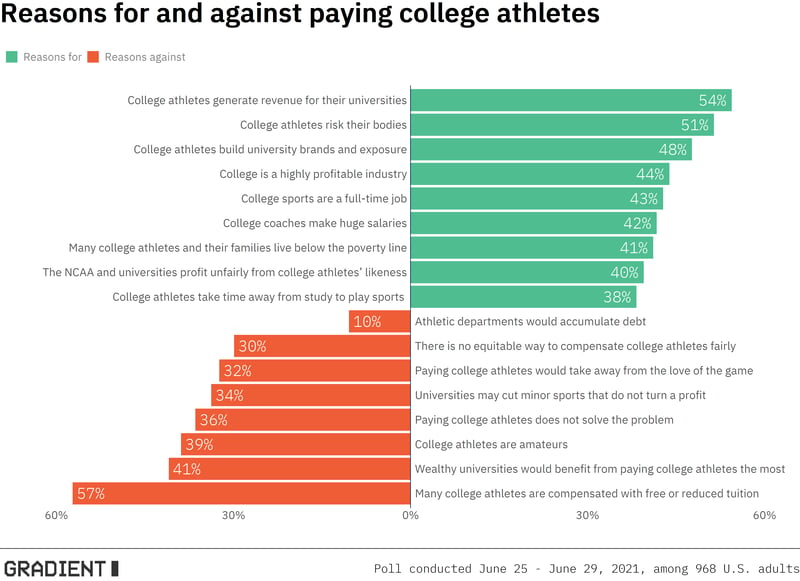 A majority of Americans who support college athletes earning money think they should be paid because they help generate profits for their university (54%) and risk bodily harm to do so (51%). On the other hand, Americans who do not support college athletes earning money primarily point to the compensation already offered to student athletes – namely, free or reduced tuition.
Despite the latest SCOTUS ruling, the path forward is anything but clear. Governors from 23 states have already signed legislation allowing college athletes to profit from their name, image, and likeness. But many more thorns have yet to be pruned. That got us wondering...what do Americans think college athletes should earn?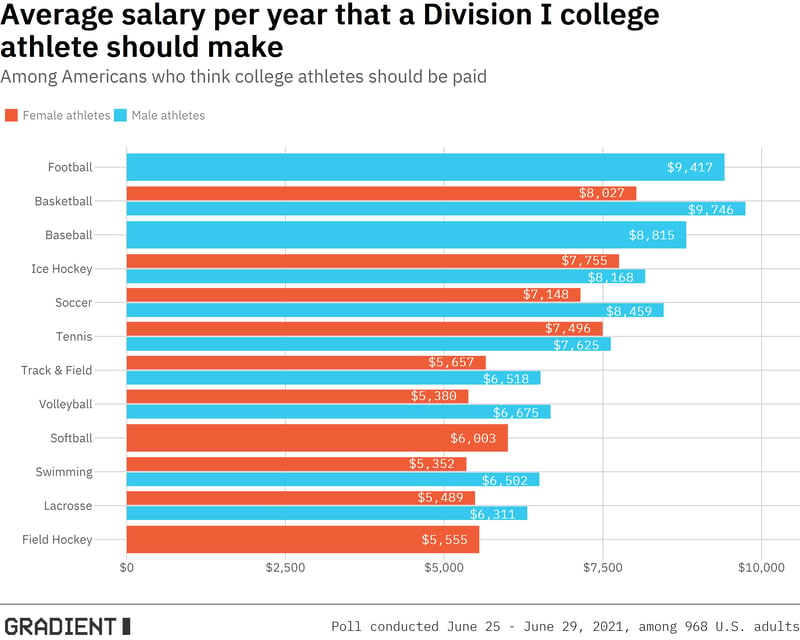 We posed the question: if student athletes were paid to play at their university, on average, how much should a Division I athlete make for each collegiate sport? Considering the entertainment spectacles that are March Madness and College Football Bowl Season, it's not shocking that male athletes playing basketball and football ought to earn the most in the eyes of Americans.
Regardless of annual salary, you can expect college athletes to be headed to a commercial break near you.