Summer is here. For many Americans, that means more sunscreen, flip flops, chlorine exposure, and – when we get a break from climate change-induced scorching-hot temps – backyard BBQs.
If you're hosting a BBQ this summer and find yourself wanting some empirical evidence for which food and beverage items are statistically likely to be crowd pleasers (as one does), you've come to the right place.
We used a conjoint (considered jointly) experiment, a discrete choice experiment often used in market research to understand tradeoffs customers use when making purchase decisions, and applied it to summer BBQs just for you.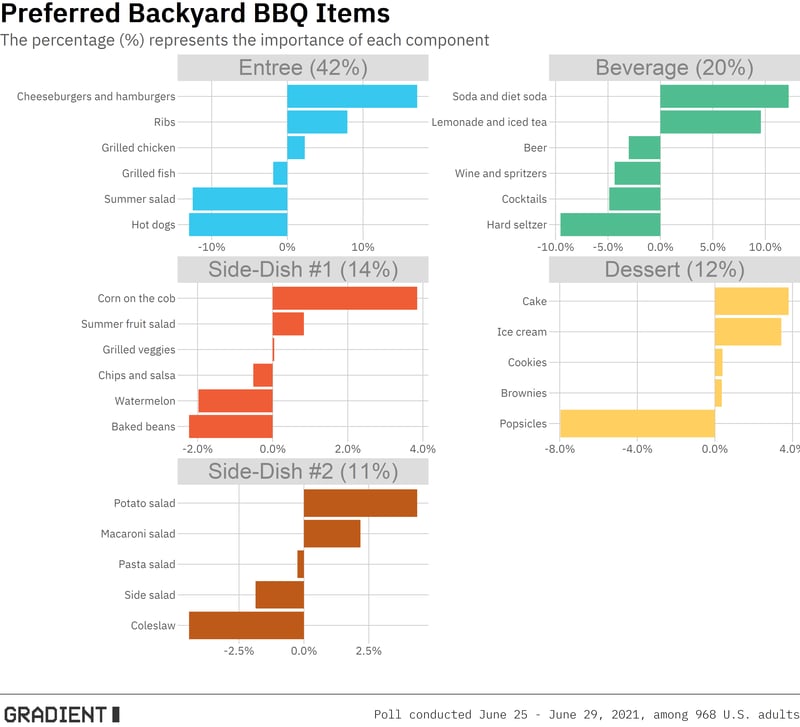 Like a Vegas boxing card, the main event drives attendance, and in BBQ, entrees are the heavyweight matchup. Within the entree category, hamburgers and cheeseburgers are the biggest crowd-pleasers, followed by ribs and grilled chicken. Note of caution for all grill masters: Burgers' fellow American classic, the hot dog, was actually the least popular entree. Sorry, Joey Chestnut.
What you're putting in people's cups is also important, but there may be no need for a liquor store trip: Americans prefer a cooler full of soda and lemonade to a boozy affair.
Stressed about an upcoming BBQ potluck? Have no fear, fam. For those times when you're tasked with bringing a side dish to a friend's BBQ, pack a few ears of corn to pop on the grill or prepare a potato salad. Showing up with coleslaw and a crisp $20 bill for each person will probably accomplish the same thing.
This wasn't in the conjoint experiment, but we're pretty sure that constantly bringing up this edition of Trendlines at your next BBQ will make you the life of the party. That and, you know, the burgers.