What's the best era of music? Do people prefer to moonwalk or would they rather be Walking on the Sun? (We would like to issue a formal apology for referencing MJ and Smash Mouth in the same sentence).
We asked Americans to name the decade they believe produced the best music. Naturally, responses were mixed.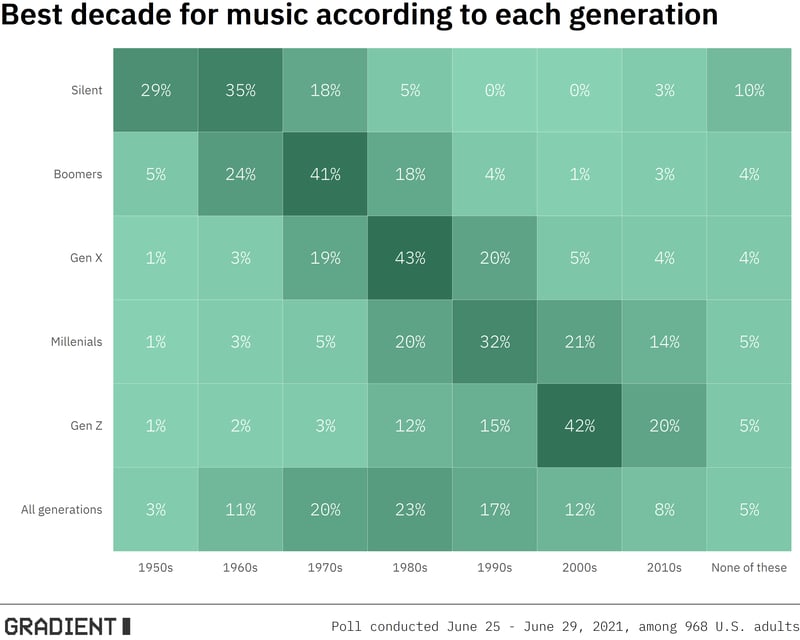 An absolute Thriller of a decade, a plurality of Americans (23%) think that the 1980s produced the best music. Particularly if you belong to Gen X, '80s music is Never Gonna Let You Down. Boomers would prefer to remembahhh the 21st night of Septembahhh (a September in the 1970s that is). And the thing that Millennials want – what they really, really want – is to jam out to some '90s music.
The pattern, perhaps unsurprisingly, is that people tend to prefer the soundtrack of their teenage years. In fact, when we asked respondents to pinpoint a specific year, the average year in which Americans think music peaked corresponds to the year they turned 14. Why? The answer is revealed in this shocking video.
There are clearly some real and interesting generational gaps in musical taste and awareness. So while late-20th century music is beloved now, contemporary music is sure to be super popular...in 2061.