We've all been there. You just moved to a new place, and you're eager to hang up your wall decor so your kitchen doesn't feel like the inside of a Wendy's. In your hastiness you hang up your It's five o'clock somewhere sign juuust a bit crooked. The next step, of course, is to throw out that god-forsaken sign to bring you one step closer to adulthood. But once you've replaced it with something better you're left with a visible hole in the wall from your initial misfire.
As it turns out, this 5/32-of-an-inch-sized problem is a pretty big one for younger Americans: 47% of Millennials, compared with just 17% of Boomers, agreed that they would need to hire a professional in order to fix a nail-sized hole in the wall.
As you might imagine, it's not just the smaller projects that have Millenials and Gen Z saying N-O to DIY. We asked Americans to tell us to what extent they agree they'd be likely to hire a professional for 15 different home projects, ranging from WiFi troubleshooting, to clogged kitchen sinks, to roof repair. The upshot: grandparents nationwide are shaking their head at younger generations' ineptitude.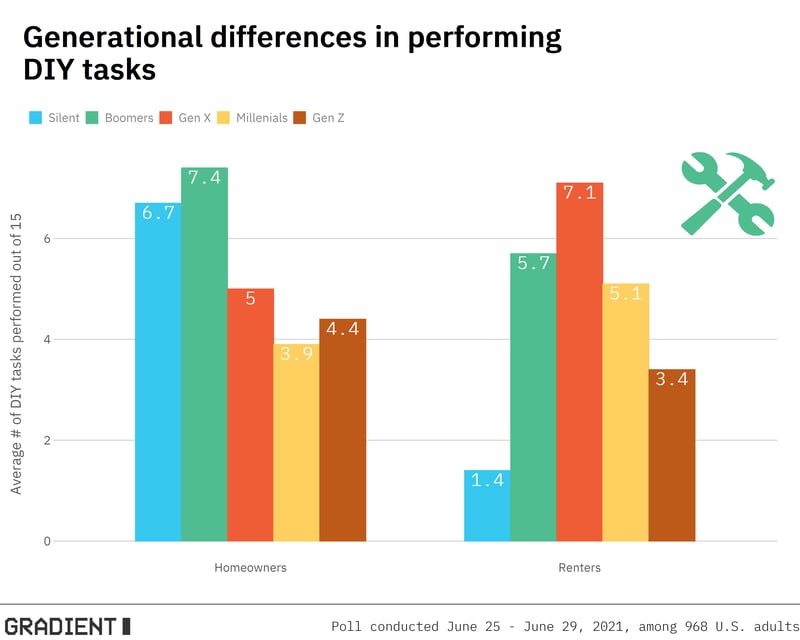 Americans, on average, agreed they could complete 5.5 of the 15 presented tasks without hiring a professional. Homeowning Boomers in particular are the most prolific home DIYers, saying they could, on average, complete 7.4 tasks on their own. Don't sleep on the skills of tool-wielding Gen X renters, either (7.1 tasks).
Not all of us are handy Boomers or have DIY-positive parents on speed dial, which is why we put together this Official Gradient Metrics Data-Driven DIY Guide to the Stars™. Behold:
DIYable:
Routine home cleaning (60% would DIY)

Patching up holes in the wall (60%)

Assembling new furniture (54%)
Might need some help:
Getting rid of ants (43% would DIY)

Getting rid of mice (33%)

Painting exterior walls (29%)
Hire a pro:
Mold removal (15% would DIY)

Heat not working (11%)

Roof repair (11%)




On your next aimless meander around Home Depot in tears, remember that there is an alternative: pay somebody else to do it.